Mohammed Amaan - Classical Indian Singer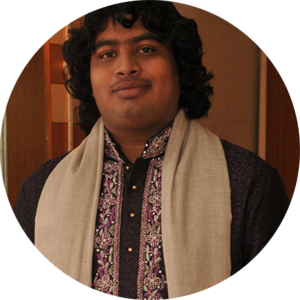 Mohammed Aman, 20, from Jaipur, Rajasthan participated in one of the reality shows on Top of Zee TV: Sa Re Ga Ma Pa 2012. He impressed everyone with his performances of music classic by Pandit Jasraj and Begum Parveen Sultana, Padmavibhushan. Begum Parveen Sultana, who made a standing ovation, said that she never imagined being able to hear in the show a classic song style that Mohammed Aman sang. Mohd Aman Khan mohammad Aman khan born in 1992 in the Tonk district of Rajasthan, belongs to a family of traditional musicians where melody and rhythm go hand in hand. Music comes naturally to Aman, he opened his eyes in an atmosphere where the sound of music has echoed for generations. His father Ustad Zafar Mohammad is a high level tabla player from our country. He is an acclaimed and well known artist, figure in the field of music, both as soloist and accompanist. He is also well versed in the intricacies of classical Hindustani music. Aman Ustad Amir Mohammed khan's grandfather, in addition to being a versatile singer and percussionist, is also a quintessential guru of Hindustani classical song and tabla. With countless doors and kayadas to his credit, khan saheb has also composed numerous compositions Mohd Aman has the privilege of being trained in the nuances of Agra and Patiala Gharanas under the competent direction of his grandfather USTAD AMIR MOHAMMAD KHAN as well as his father USTAD ZAFAR MOHAMMAD. His training started early and at a tender age of 5, he was able to impress and amaze the gathering with his classical song. Today at a young age, his Gayaki carries all the qualities and characteristics of a matured and seasoned artist. In addition to its basic understanding of the mood of a Raaga, the varying application of Aakars, alaap, Bol banav and Bol bant gives its recital a distinct and rich flavor. The rendering of powerful and powerful taans of the speed of lightning which is its strength, leaves the public fascinated. He captivated the gathering by his technical virtuosity in prestigious festivals like « USTAD REHMAT ALI KHAN SAMAROH (Bhopal) » « USTAD KADAR KHAN SAMAROH (Jaipur) », classical recital organized by Madhya Pradesh kala parishad (Tikamgarh), Sinjara Mahotsav ( Jaipur). His vocal recitals have also been well applauded in cities like Gwalior, Chandigarh, Ganganagar, Indore, Dewas, Ahmedabad, Delhi, Tonk etc. Mohd. Aman was privileged to be heard by the county's greatest classical singers, who warmly appreciated and praised his efforts and blessed him for a bright future. Amaan, with his solid musical training and in-depth training, is a young accomplished classical singer and promising of the current generation.
Booking contact for worldwide
Rahis Bharti.