The Dhamaal Dancers And Musicians Of India
Will be Touring in United States 15 September to 7 Dec 2020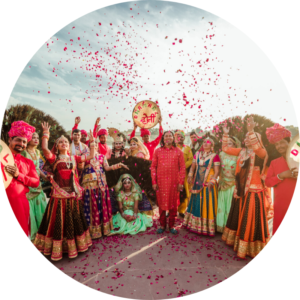 Directement de Jaipur, Inde. Une célébration colorée comme vous n'en avez jamais vue auparavant.
Ce tout nouveau spectacle fascinant du célèbre directeur musical et danseur principal Rahis Bharti rend hommage à la riche culture et aux traditions de l'Inde transmises de génération en génération.
S'inspirant de la mythologie, de la danse traditionnelle et d'une variété de styles musicaux indiens, les légendaires danseurs et musiciens de Dhamaal de l'Inde émoustillent les sens avec une fusée acrobatique et une musicalité de classe mondiale.
Le programme s'articule autour de l'ancienne tradition de Holi, connue dans le monde entier sous le nom de Festival des couleurs. Considéré comme l'un des festivals les plus importants et les plus importants de l'Inde, Holi célèbre l'arrivée du printemps et le passage de l'hiver avec une atmosphère de gaieté sociale.
Le programme original de Rahis Bharti vous invite dans ce monde avec de nouvelles chansons basées sur le festival des couleurs accompagnées d'instruments traditionnels et modernes – tabla, harmonium, dhol, flûte et sitar – toutes jouées aux côtés d'une chorégraphie envoûtante.
The Dhamaal Dancers and Musicians of India est une nouvelle extravagance vous offrant une expérience vraiment inoubliable du Festival des couleurs.
Booking contact for worldwide
Rahis Bharti.