Chalaang - Drummers Of India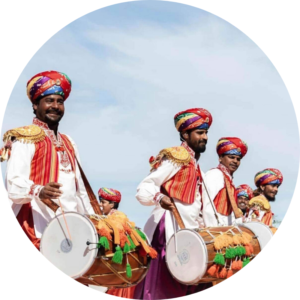 Chalaang means Jump towards Rythm of happiness. It's new Vision of Rahis Bharti to preserve Living arts forms from streets, Marriages to the world stages which have been never been presented before. Rana is a community of talented musicians. They have played for a variety of events and celebrations in India over the years. The tradition for Rana musicians is to play drums from village to village. Unfortunately like a lot of traditions this is slowly starting to fade. The group Is composed of 8 drummers. These talented musicians have experience playing carnivals, open air festivals and marriages i have chosen best drummers from different corners of Rajasthan. With their talent and determination we want to preserve this treasured music. The drummers are aged 19-25 years old. They are the new generation, bringing the historic style of drumming to the youth of today. They are elegant and beautiful in the way that they play. Rahis Bharti brings to you this idea of a festive and unique show, please don't miss out on this breathtaking experience like no other !
Booking contact for worldwide
Rahis Bharti.